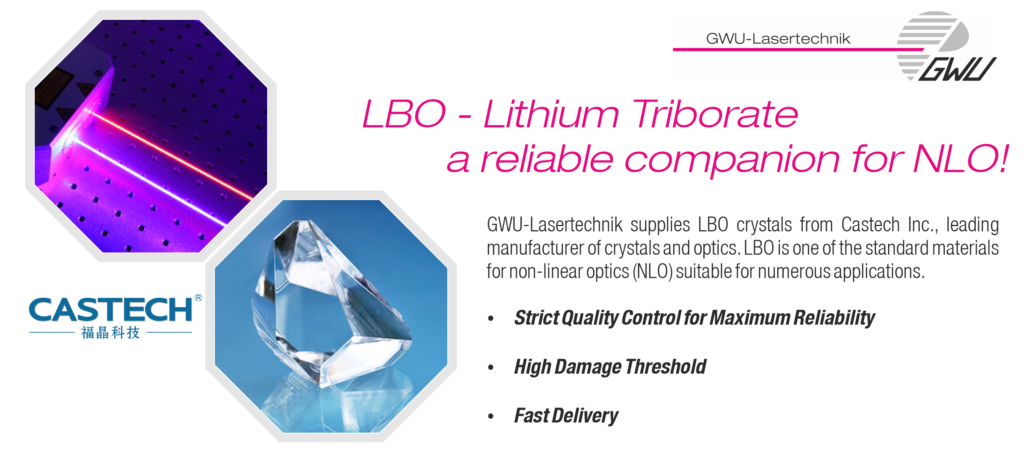 Lithium Triborate with strict quality control ans maximum reliability.
Lithium Triborate (LiB3O5 or LBO) is an excellent non-linear material for a broad variety of applications. As a reliable companion it is offering a high damage threshold and can help to solve your frequency conversion issues in various applications.
LBO was developed by FIRSM, CAS (Fujian Institute of Research on the Structure of Matter, Chinese Academy of Sciences) and is now manufactured by Fujian CASTECH Crystals, Inc. (CASTECH). Castech holds the exclusive rights to produce the patented LBO crystal and its NLO devices.
No matter if individual pieces for R&D purposes are required or cost-efficient numbers in small, medium or large batches with in-time delivery for the production line are needed: GWU's dedicated service helps to find the best core components for your application. GWU-Lasertechnik has more than 30 years of experience in distributing LBO crystals and manufacturing LBO-based laser devices. Choose GWU to benefit from our wide knowledge and in-field experience!
If you have any questions or if you want further information on LBO or other GWU products, please do not hesitate to contact us!