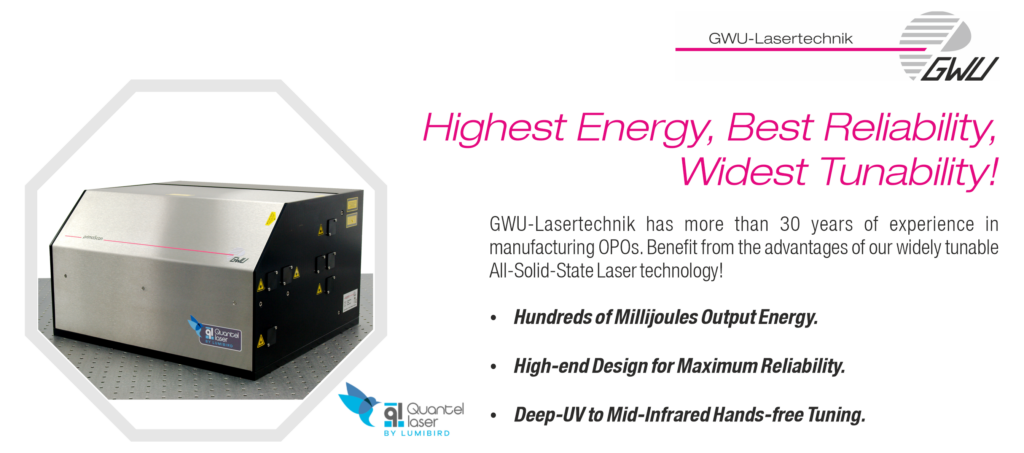 primoScan Series OPOs are the leading Edge of tunable laser sources
GWU-Lasertechnik is a pioneer of the OPO technology. We introduced our first device into the market in 1989! It was the first commercial OPO based on BBO. From these early days, the GWU OPO devices have been continuously improved and developed, always with our philosophy in mind to provide rugged, widely tunable laser systems with maximum reliability.
The primoScan OPO is offering the highest output energy available on the market through the complete tuning range. Starting from below 190 nm in the deep-UV, gap-free across the UV and visible and ranging to above 2700 nm in the mid-Infrared, nanosecond pulses with millijoules of energy are provided. Following GWU's design philosophy, the primoScan has been designed for maximum reliability and long lifetime. The soft pumping scheme is ensuring a minimum wear level of all components and a constant performance over many years. The automated control standard allows for hands-free operation and convenient usability.
Find more information on the primoScan tunable Laser Source.
If you have any questions or if you want further information on the primoScan Series or other GWU products, please do not hesitate to contact us!
The primoScan OPO has been tailored for and thoroughly tested with Quantel by Lumibird's lasers. The GWU scanSeries OPO are distributed worldwide by Lumibird. Please contact GWU-Lasertechnik or your local Quantel Lasers representative.
More Information on Lumibird-Quantel DPSS Lasers