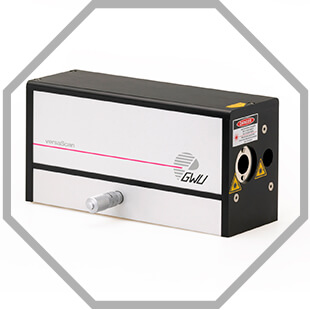 The versaScan-L532 is a versatile 532 nm pumped OPO. Its near-IR wavelength range is perfectly suitable for the excitation of bio-molecules. Available in broadband and midband configuration in a rugged design with compact footprint, it is the perfect work horse in any lab.
The versaScan-L532's tuning range from 660 nm to 2550 nm is covering molecular absorptions of e. g. hemoglobin, lipids or collagen. Thus, it is perfectly suitable for medical and biological applications, such as photoacoustic imaging. Available in broadband (/BB) configuration for highest efficiency and in midband (/MB) configuration with enhanced tunability, the versaScan-L532 OPOs can satisfy the needs of many scientific applications.
Following GWU's design philosophy, the versaScan-L532 OPOs are using a soft pumping scheme with low fluence, ensuring maximum reliability. Moreover, the BBO crystals are coated with an advanced "p-coating" – a layer that protects the crystal surface from degradation due to environmental effects for maximum lifetime. Our advanced optical and mechanical design grants for optimum performance and is virtually maintenance-free.

versaScan-L532 Features ans Benefits:
• Modular and reliable design
• High near IR energies
• Soft pumping scheme for high reliability and long lifetime
• Broadband and midband options

Contact us for further information! The GWU scanSeries OPO are distributed world wide by Lumibird.
Data Sheet: