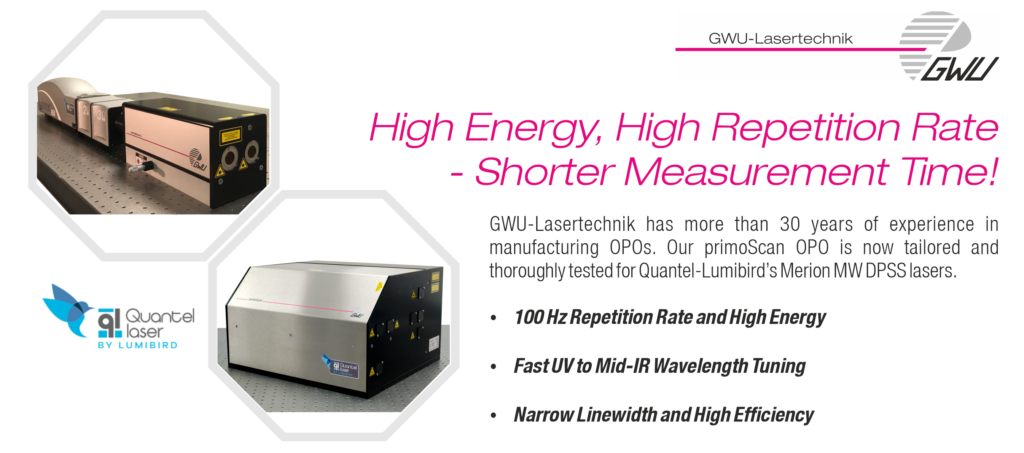 GWU-LASERTECHNIK launches the primoScan and versaScan-L532 OPO for high repetition rate DPSS lasers.
The primoScan high-end Optical Parametric Oscillator (OPO) and the green-pumped versaScan-L532 OPO are now available for high-repetition rate diode-pumped solid state (DPSS) lasers.
Being suitable for up to 100 Hz pulse repetition rate, the DPSS models extend the versatility of GWU's tunable laser sources.
The primoScan offers an extremely wide tunability from the UV to the mid-infrared spectral range. The primoScan DPSS comes with GWU's proven ULD technology for best beam quality, narrow linewidth and high efficiency. Wavelength tuning can be accomplished with a shifting time below 100 ms across the complete tuning range. Following GWU's design philosophy, the DPSS version of the primoScan series is using a soft pumping scheme with low fluence, ensuring maximum reliability.
The versaScan-L532 OPO provides tunable access to the near-infrared wavelength range, addressing the absorption lines of bio-molecules. Providing a nearly constant output energy across the tuning range, the versaScan is perfectly suitable for Photoacoustic applications.
Higher repetition rate, shorter measurement time!
Find more information on the GWU scanSeries OPOs.
If you have any questions or if you want further information on the primoScan DPSS or other GWU devices, please do not hesitate to contact us!
The primoScan OPO for DPSS lasers has been tailored for and thoroughly tested with Lumibird's Merion MW lasers. Like all other GWU scanSeries OPOs, the primoScan DPSS is distributed worldwide by Lumibird.