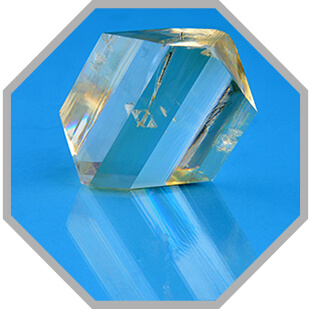 Product Description:
KTP is an ideal crystal for e. g. frequency doubling and (Mid-)IR applications. It offers large non-linear optical coefficients, promising for efficient frequency conversion.
No matter if individual pieces for R&D purposes are required or cost-efficient numbers in small, mid or large batches with in-time delivery for the production line are needed: GWU's dedicated service helps to find the best core components for your application. GWU-Lasertechnik has many years of experience in distributing KTP crystals and manufacturing KTP-based laser devices. Choose GWU to benefit from our wide knowledge and in-field experience!
KTP Key Features:
Large non-linear optical coefficients
Wide angular acceptance bandwidth and small walk-off
Wide temperature and spectral acceptance bandwidth
Large figure of merit
Non-hydroscopic, chemically and mechanically robust
Crystal dimensions available up to 20 mm x 20 mm x 40 mm
Length upto 60 mm
Standard and customized coatings available
Strict quality control
Fast delivery
Data Sheet: